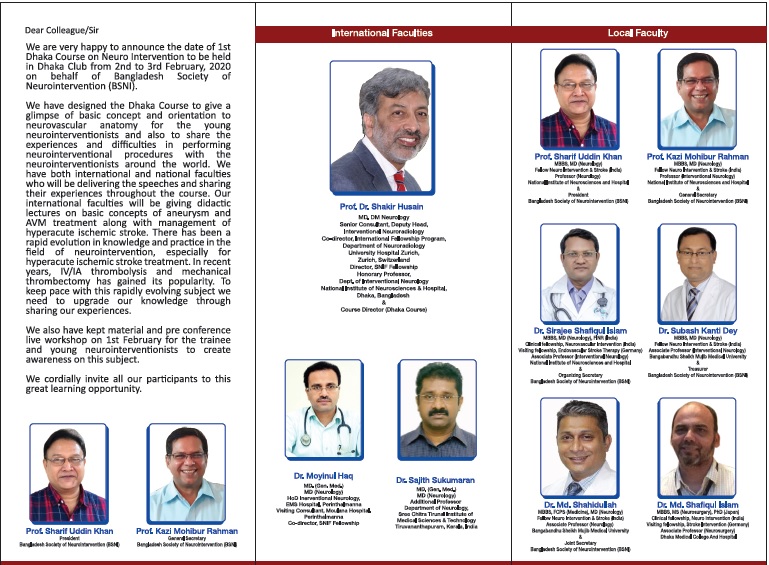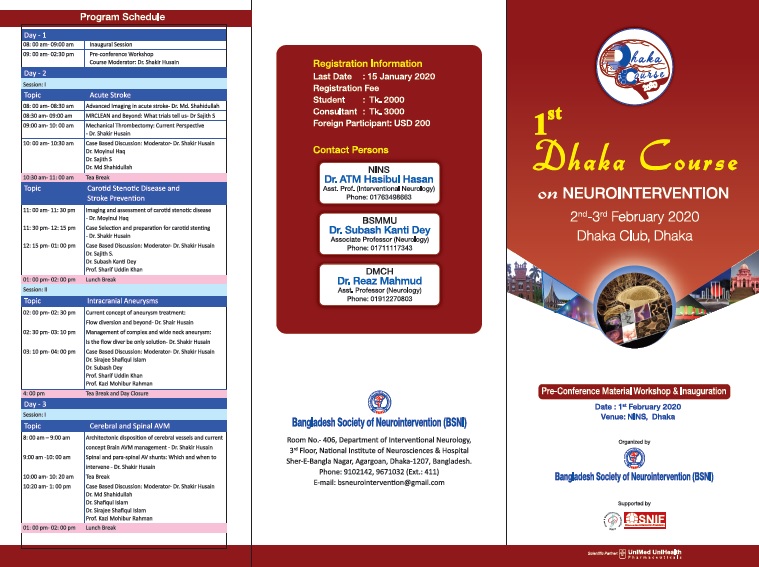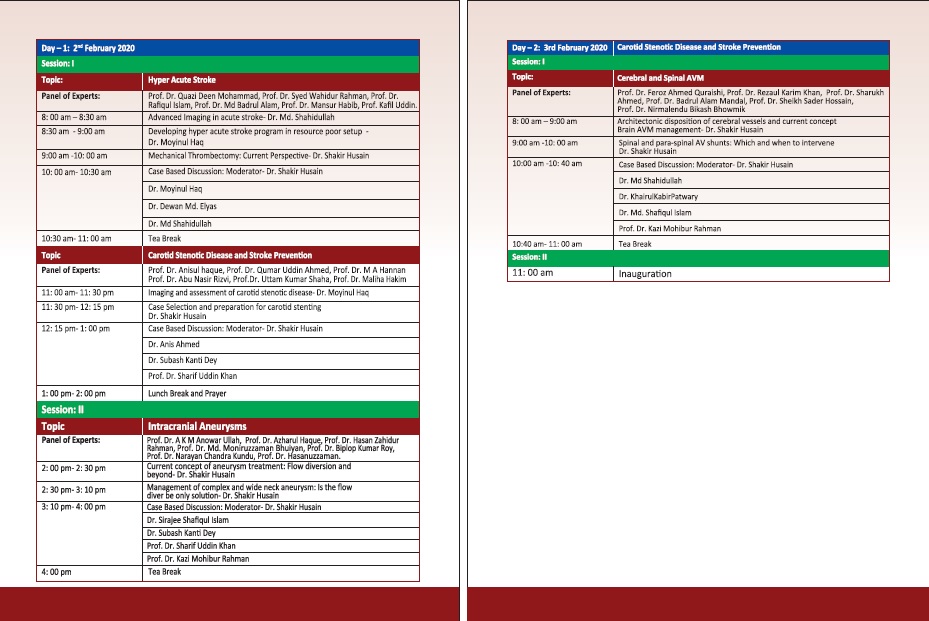 1st Dhaka Course on Neurointervention
We are extremely happy and delighted to successfully conclude the 1st Dhaka Course on Neurointervention that was held from 2nd to 3rd February, 2020 at Dhaka Club and National Institute of Neurosciences and Hospital jointly organized by Bangladesh Society of Stroke & Neurointervention (BSSNI) and Stroke and Neurointervention Foundation (SNIF), India. The course was endorsed by Society of Neurologists of Bangladesh (SNB). The Unimed Unihealth Ltd provided the scientific support for the program.
The course was intricately designed to give a glimpse of basic concept and orientation of neurovascular anatomy for the young neurointerventionists and also to share their own experiences of facing difficulties in performing interventional procedures with distinguished foreign and local faculties.
We had both international and local faculties who conducted the two day course. The international faculties gave didactic lectures on basic concepts of different relevant diseases and the local faculties showed their cases with different technics with tips for different level of difficulties. Professor Shakir Husain, Senior Consultant and Deputy Head, Intervantional Neuroradiology and Co-Director, International Fellowship Program at University Hospital Zurich, Switzerland was the course director and mentor for Dhaka Course. Dr. Moyinul Haq, Head of the Department, Interventional neurology, EMS Hospital, Perinthalmanna, Kerala, India was also present there as international faculty.
As local faculties we had Prof. Sharif Uddin Khan,  Prof. Kazi Mohibur Rahman, Dr. Sirajee Shafiqul islam, dr. Khairul Kabir Patwary and dr. dewan Md. elyas from national Institute of Neurosciences and Hospital; Dr. Subash Kanti Dey, Dr. Md Shahidullah, Dr. Anis Ahmed from Bangabandhu Sheikh Mujib Medical University and Dr. Md Shafiqul Islam from Dhaka Medical College Hospital.
The two day course had three sessions. At the first day session I was dedicated to hyper acute ischemic stroke and carotid stenotic disease. The second session was all about the current concept in management of aneurysm including the wide neck and complex aneurysms. On the next day there were only one session related to cerebral and spinal AVM.
Day 1: Session-I
We started our academic course with hyper acute stroke, from basic concept to development and management of these patients in stroke units. The venue was the Samson H Chowdhury hall in historic Dhaka Club. At first Dr. Md Shahidullah tried to give the basic concept of brain and vascular imaging in acute stroke. He had precisely depicted the early signs of acute stroke in CT, MRI and in perfusion imaging. Dr. Moyinul Haq later showed how successfully a hyper acute stroke program can be run in a resource poor set up. After that Prof. Shakir Husain gave the current concept and updates on Mechanical Thrombectomy. Later on there was case based discussion that was moderated by Prof. Shakir Husain. Dr. Moyinul Haq, Dr. Dewan Md Elyas and Dr. Md. Shahidullah showed their acute stroke cases. There was a very lively a participatory discussion on the cases.
After the tea break the session resumed with the topic carotid stenotic disease and stroke prevention. Dr. Moyinul Haq started with Imaging and assessment of carotid stenotic disease. Prof. Shakir Husain discussed in detail about case selection and preparation of carotid stenting based on the current evidence from different trials and personal experiences. Later on Dr. Anis Ahmed, Dr. Subash Kanti Dey and Prof. Sharif Uddin Khan showcased their angioplasty and stenting cases. Prof. Shakir Husain actively moderated the discussion as well
Day 1: Session-II
The post lunch session was kept for intracranial aneurysms. Prof. Shakir Husain discussed about the current concept of aneurysm treatment including the management of complex and wide neck aneurysms and current concept of flow diversion. Dr. Sirajee Shafiqul Islam, Dr. Subash Kanti Dey, Prof. Sharif Uddin Khan and Prof. Kazi Mohibur Rahman presented their experience in management of different types of aneurysms.
Day 2: Session-I
On the second and final day, it was all about arteriovenous malformations. At first Prof. Shakir Husain elaborately discussed on architectonic disposition of cerebral vessels and brain AVM management. Then he talked about the tips and tricks of spinal and paraspinal AV shunt management. Dr. Md Shahidullah, Dr Khairul Kabir Patwary, Dr. Md Shafiqul Islam and Prof. Kazi Mohibur Rahman showed management of several AVM cases.